Crispy Five Spice-glazed Salmon With Shaved Carrot And Fennel Salad
Crispy Five Spice-Glazed Salmon with Shaved Carrot and Fennel Salad -- a restaurant-style salmon that couldn't be simpler to prepare, plus a shaved carrot and fennel salad that is surprisingly bright and flavorful.
–Emily Stoffel, The Pig & Quill
I avoided cooking salmon at home for the longest time. I was intimidated, to say the least. Afraid that I'd fail to nail the silky, buttery texture that seemed reserved for the salmon ordered at my favorite bistros. Afraid of ruining a perfectly lovely, perfectly pricey fillet of fish. Afraid that I'd miss a spiny pinbone and my husband would wind up with the tongue piercing he never wanted. (Truth be told, he had a similar experience when he was a kiddo, so that one remains a very real fear.)
Image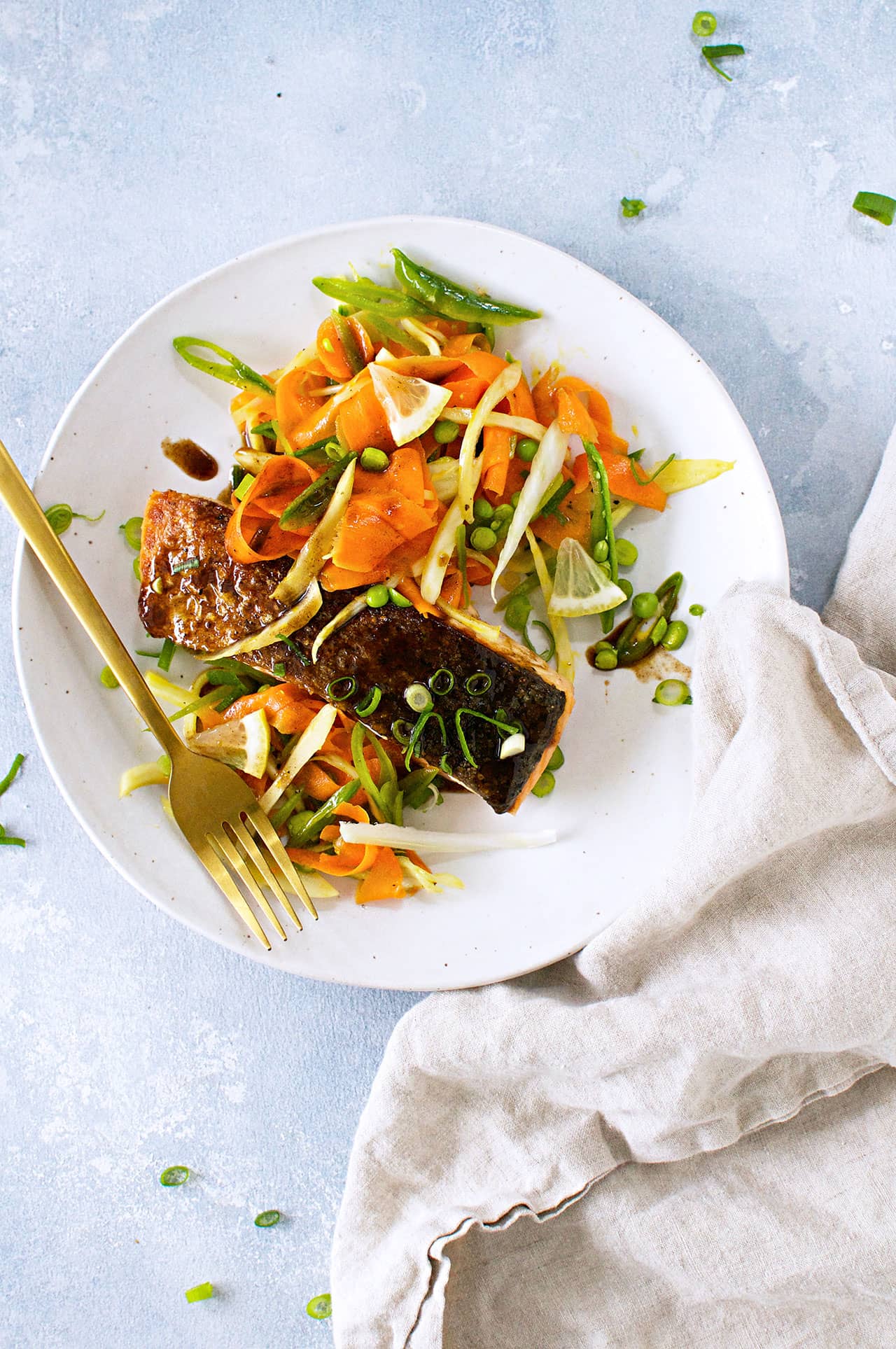 Image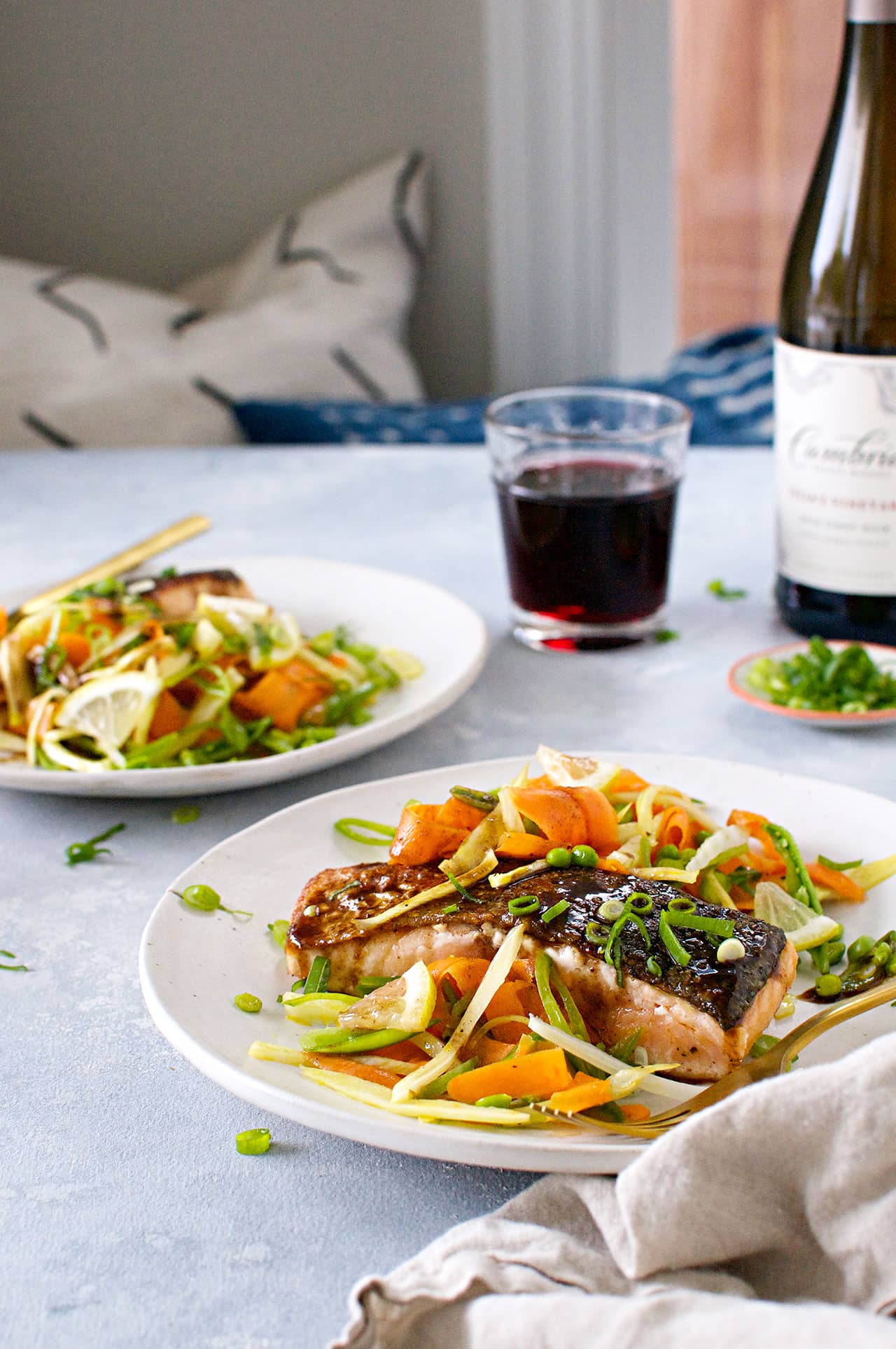 And then one day, I was gifted a large portion of incredible wild-caught salmon from a fisherwoman friend, and it seemed the time had come to experiment. We cooked it low and slow in a bath of oil and herbs. Good. We marinated it in a gloriously fragrant mixture of soy, miso and sake and broiled it. Very good. And, at long last, we salted it liberally and seared it skin side down in a hot skillet until crisp. Shockingly good. Comparable to the salmon dishes I had so enjoyed at those aforementioned bistros. And go figure: it was the simplest method, by far.
The salmon you see here is that same crispy, pan-seared salmon, dressed up ever so slightly with a richly fragrant five spice glaze that comes together in minutes (and in the same pan in which the salmon was seared, no less). It's an intensely flavorful glaze: salty, sweet and subtly smoky, with a rich complexity that belies its five simple ingredients -- and is so perfectly complemented by the bright ribbons of vegetables in the accompanying salad. (Which, by the way, is so surprisingly tasty we've been enjoying it as a side dish with almost every meal this spring.)
Image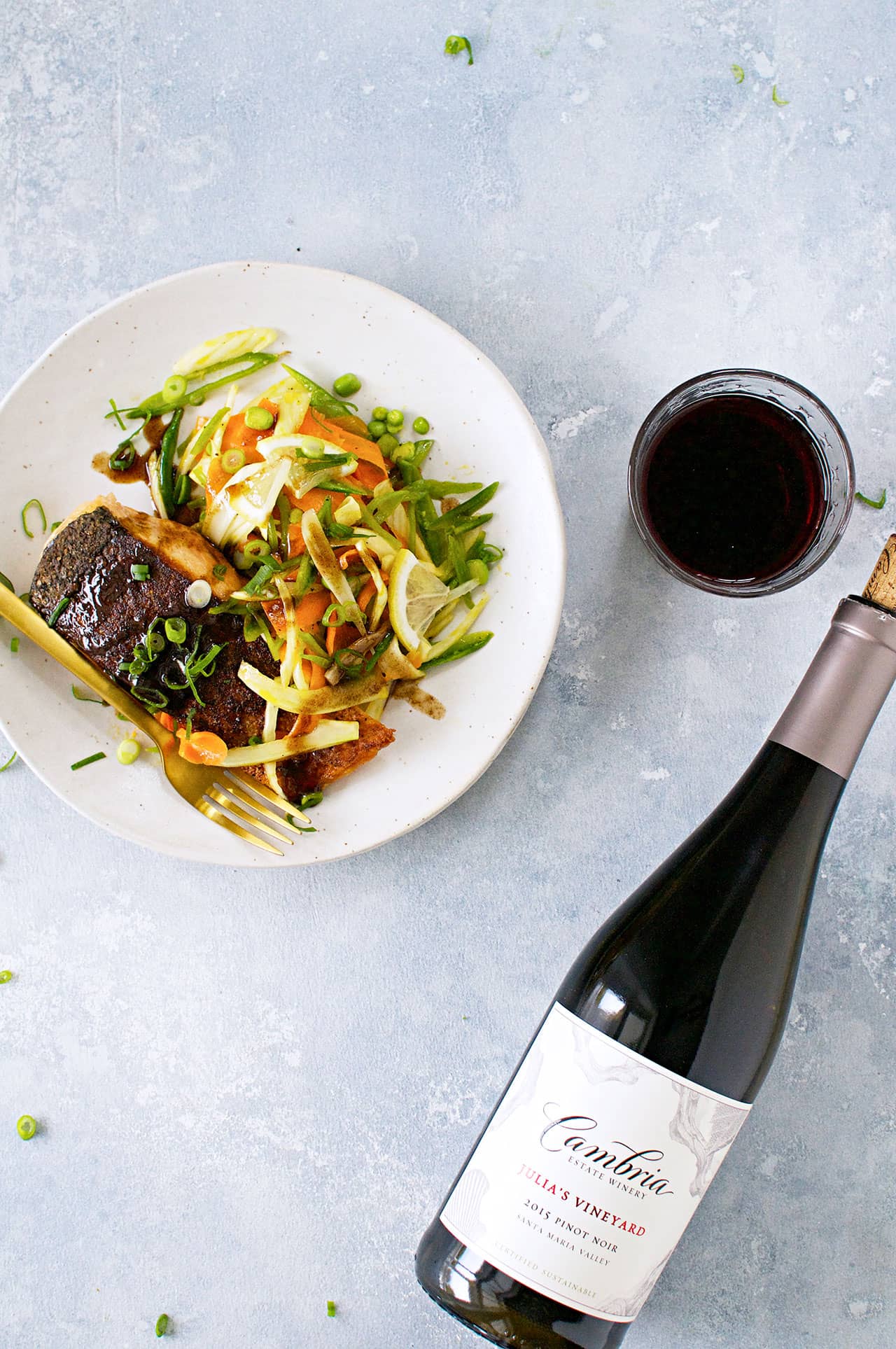 Paired with a glass of Julia's Vineyard Pinot Noir, this Crispy Five Spice-Glazed Salmon easily rivals what you might find in your favorite restaurant. It's the perfect dish for a quick weeknight meal, impressing company, or wowing your partner on date night. Tongue piercing not included.
Crispy Five Spice-glazed Salmon With Shaved Carrot And Fennel Salad
Notes: If you've never cooked salmon with the skin on, fear not. This remains one of the simplest, most enjoyable ways to prepare salmon, and the (omega-rich!) skin becomes delightfully crisp and salty. As my 4-year-old says, "it's like salmon bacon!" She's not wrong.
Regarding timing: prep the veggies for the salad before you begin the salmon, then bring them together while the salmon sears.
Cook time: ~15 mins
Serves: 4
Ingredients
4 6-oz portions of skin-on salmon fillets
Himalayan pink salt or sea salt
freshly ground black pepper
½ T avocado oil, or other light-colored, high-heat cooking oil
2 T soy sauce
1 T fish sauce
2 T honey
1 T Chinese black vinegar (or balsamic, in a pinch)
1 tsp Chinese five spice powder
1/4 cup water
thinly sliced scallions, for serving
Directions
Preheat a heavy skillet or cast iron pan over med to med-high heat. (If you know your stove runs hot, err on the side of medium.)
Pat salmon dry on both sides. Generously season salmon on both sides with salt and pepper. Add oil to hot pan and swirl to coat. (Oil should shimmer but not smoke.)
Add salmon, skin side down, and allow to cook undisturbed for 5 mins, until skin is very crisp and deep brown. If you fear pan is too hot, knock back the heat a tad.
Flip salmon and cook for 30 secs to 1 minute, until just cooked through, or cooked to your liking. (I tend to aim for medium, so the sear on the second side is pretty brief.) Remove salmon to a plate skin side up until ready to serve.
While salmon cooks, combine soy sauce, fish sauce, honey, vinegar, five spice powder and water in a small bowl. Pour mixture into the same hot pan in which you seared the salmon, scraping up any brown bits. Reduce heat to med-low and cook for 1-2 mins, until sauce is bubbling and reduced but not too syrupy. Serve salmon skin side up with a drizzle of the five spice glaze, a scattering of scallions and a side of the Shaved Carrot and Fennel Salad (recipe below). Enjoy!
Shaved Carrot and Fennel Salad
Ingredients
6 medium carrots, shaved into ribbons with a veggie peeler
2 small bulbs fennel, quartered, cored and very thinly sliced
5 oz snap peas, thinly sliced on an angle
1/2 small lemon
extra virgin olive oil
Himalayan pink salt or sea salt
Directions
Very thinly slice lemon into rounds; then slice each round into tiny wedges. In a large bowl, combine carrot ribbons, sliced fennel and sliced snap peas. Dress generously with olive oil and salt, to taste. Toss. Top with tiny lemon wedges and serve alongside salmon.
Image